Biliyorum, Catrice Türkiye'de satilmiyor, fakat bir sonraki cekilisimde bu paleti de vermeyi düsündügüm icin bu yaziyi paylasmak istedim. Eger begenirseniz, o zaman gidip bu paletten bir tane daha alacagim sizler icin.

I know, Catrice isn't sold in Turkey (or anywhere outside Germany), but I want to include this palette in my next giveaway, so I wanted to share its review. If you like it, then I will go and buy one for the next giveaway.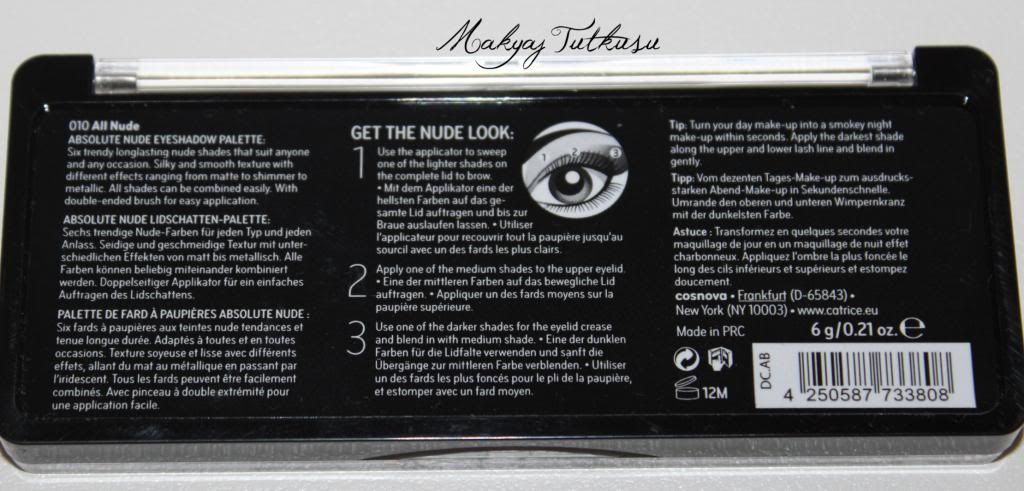 With flash...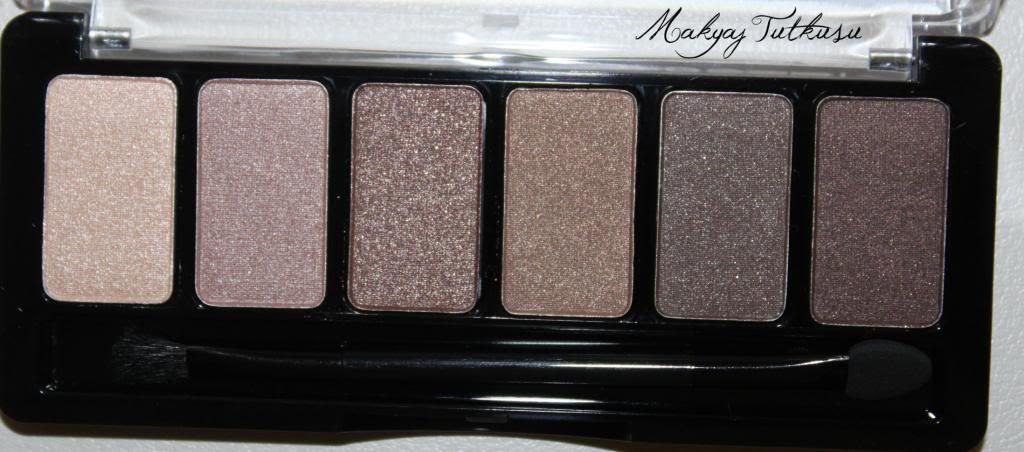 Without flash...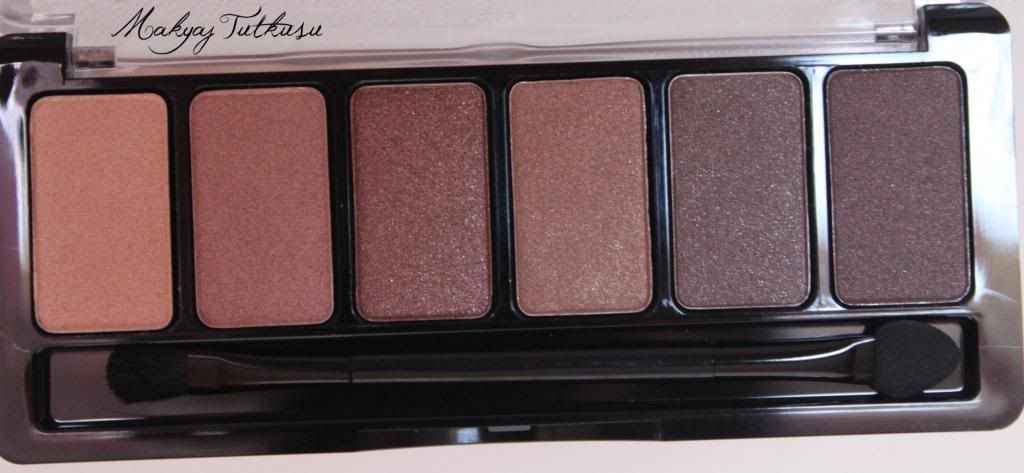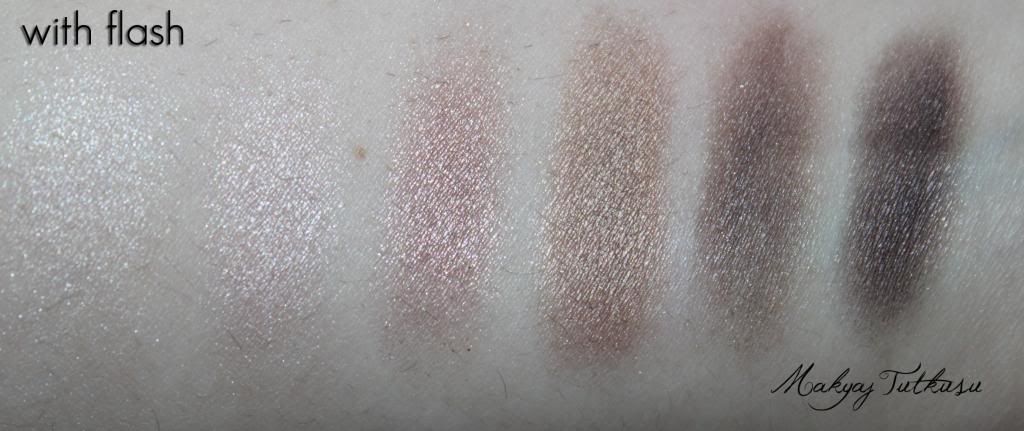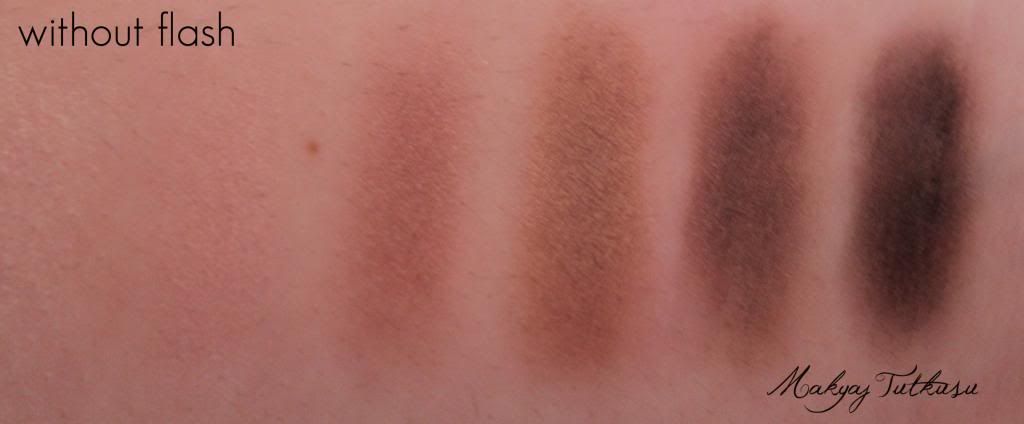 Bütün renkler parlak. Palet elde iyi duruyor ve renk secimi de süper, cünkü gezilerde yaniniza aldiginizda bütün gereken renkleri iceriyor. Bazsiz cok iyi bir sonuc veremiyor ne yazik ki, ama bazla beraber ayni paletteki rengi teninizde görebiliyorsunuz. Pigmentasyonu iyi, ama mükemmel degil. Swatch yaparken biraz tozutma oldu, ama cok degil. Özellikle altinda bir baz kullaninca hicbir sorun cikmadi. Baz ile kaliciligi cok, cok iyi. Bazsiz kaliciligini test etmedim. Asagidaki resimde ilk iki rengin gözdeki durusunu görebilirsiniz. Acik tonlar cok iyi yediriliyor ve uygulaniyor. Koyu renkler de iyi yediriliyor, fakat uygulamada hafif lekeli gibi durabiliyor, bu yüzden birac defa tekrar fircayi bandirip üzerinden gecmek zorundasiniz. Renklerle gayet iyi, dogal makyajlar yapilabilir, ama dramatik bir makyaj yapmayi umut edenleri hayal kirikligina ugratir. Her gün kullanabileceginiz, natürel renkler iceren bu paleti ben sahsen cok sevdim. Tozutmasi ve renklerin pigmentasyonunun büyük olmamasi benim icin bir problem degil. Baz ile her problem cözülüyor acikcasi. Kaliciligi beni cok sasirtti dogrusu, ben baz ile bu kadar kalici olacagini beklemiyordum.

All the colors are shimmery. It has a good weight to it and the color scheme is great, because if you take it on a trip with you, you will pretty much have all the colors you will need for a daily look. Unfortunately, it doesn't quite look as vibrant on the skin as it does in the pan, but with a base the problem is quickly solved. The pigmentation is good, but not perfect. I had a little bit of fall-out when I swatched these, but it was still OK. When you apply it with a base, there is less fall-out. Also, with a base it stays on for a very long time. I didn't try it out without a base. On the picture below you can see the first two colors applied. The lighter shades are applied and blended very well. The darker shades are also good to blend, but the application can be a little challengeing. For example, the darkest shade can look a little blotchy, so you have to go in and apply the color again to make it more vibrant. You can create nice, neutral eye make-ups with these, but if you expect to be able to create dramatic looks, then you will be disappointed. I actually really like this palette with which you can create really natural, everyday looks. I'm not really bothered by the weak pigmentation or the fall-out. Like I said, it's all solved with a base. The staying power really did surprise me. I didn't expect it to be that good.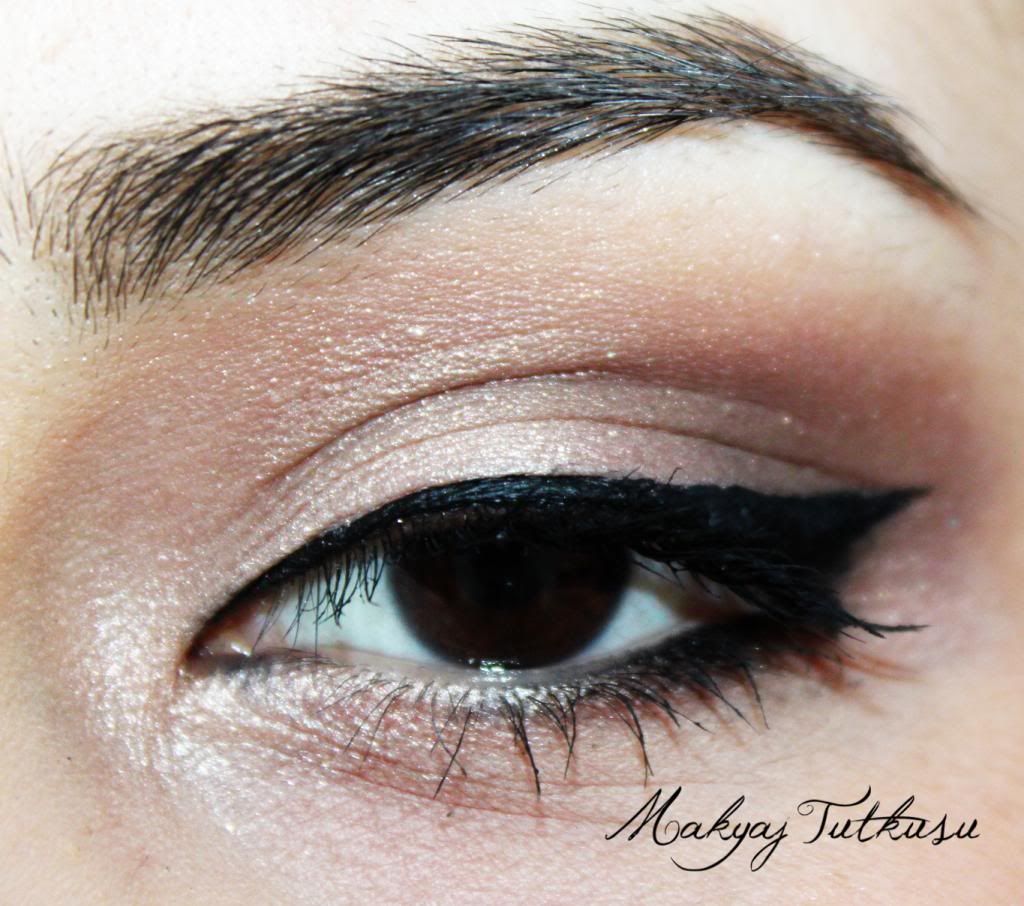 Umarim bu yaziyi ve bu paleti begenmissinizdir. Eger olumlu yorumlar alirsam, bunu cekilise eklemeyi düsünüyorum. Birkac olumsuz yani var tabii, ama bence yine de cok iyi bir palet.

I hope you enjoyed this review and the palette. If I get positive feedback, then I will add this to my next giveaway. Yes, there are a few disadvantages to it, but I still think it's a pretty great product.