Herkese merhaba! Bu yazimda sizlere Avene'in en ünlü ürünlerinden olan Cold Cream'inden bahsedecegim. Icerigi 40 ml ve 9€ civarinda bir fiyata eczanelerde satiliyor. Avene'in her ürününde oldugu gibi bunda da termal suyundan var. Websitesinde 35% termal suyu icerdigini söylüyor. Bu krem cocuklardan yaslilara kadar her yas icin uygunmus. Cok kuru cilde sahip olanlar icin yapilmis. Benim yanaklarim cogu zaman bayagi kuru oluyor, özellikle de kis mevsiminde, bu yüzden bunu aldim ve birkac haftadir kullaniyorum.

Hello everyone! In this post I want to talk about one of Avene's most famous products: the Cold Cream. It has 40 ml and retails for around 9€ here in Germany. You can get it at pharmacies. Like most (if not all) Avene products, this contains 35% of their famous thermal water. This cream is suitable for children as well as older people; basically everyone. It's meant for people with very dry and sensitive skin. My cheeks are sometimes dry, especially in the winter season, which is why I bought this cream and have been using it for a few weeks.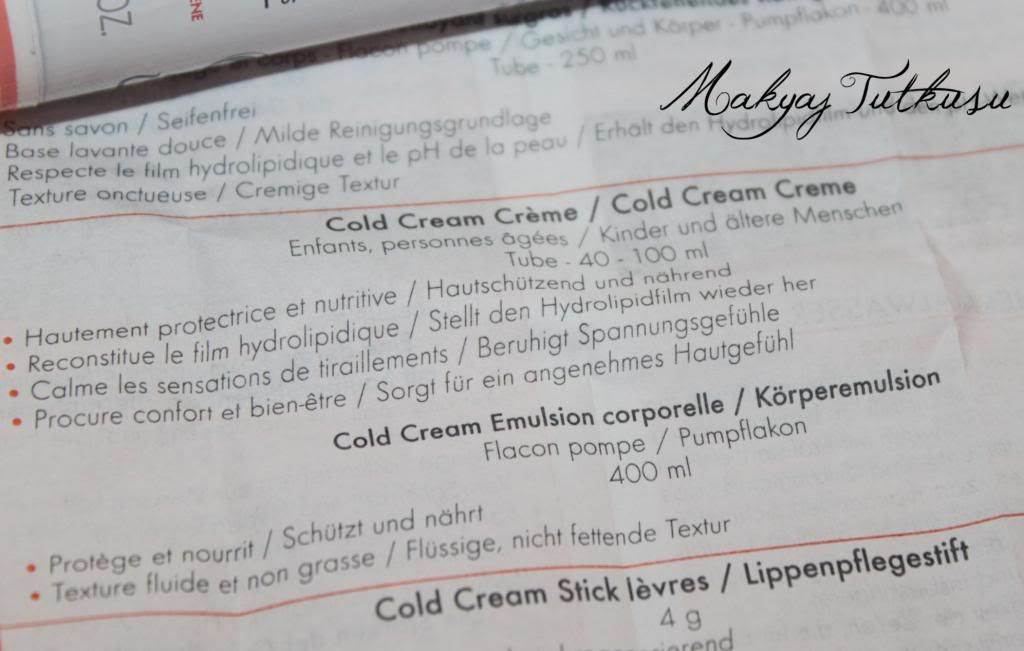 Yukarida yaninda gelen kagitta sunlar yaziyor: Cildi korur ve besler, cildin hidrolipid bilme nesini düzeltir (?), gerginlik hislerini azaltir ve rahatlatir, iyi bir cild hissini saglar.

On the little paper that comes in the box it says that it: protects and nourishes the skin, restores the hydrolipid something (?), relaxes the skin's tightness and gives a pleasant skin feeling.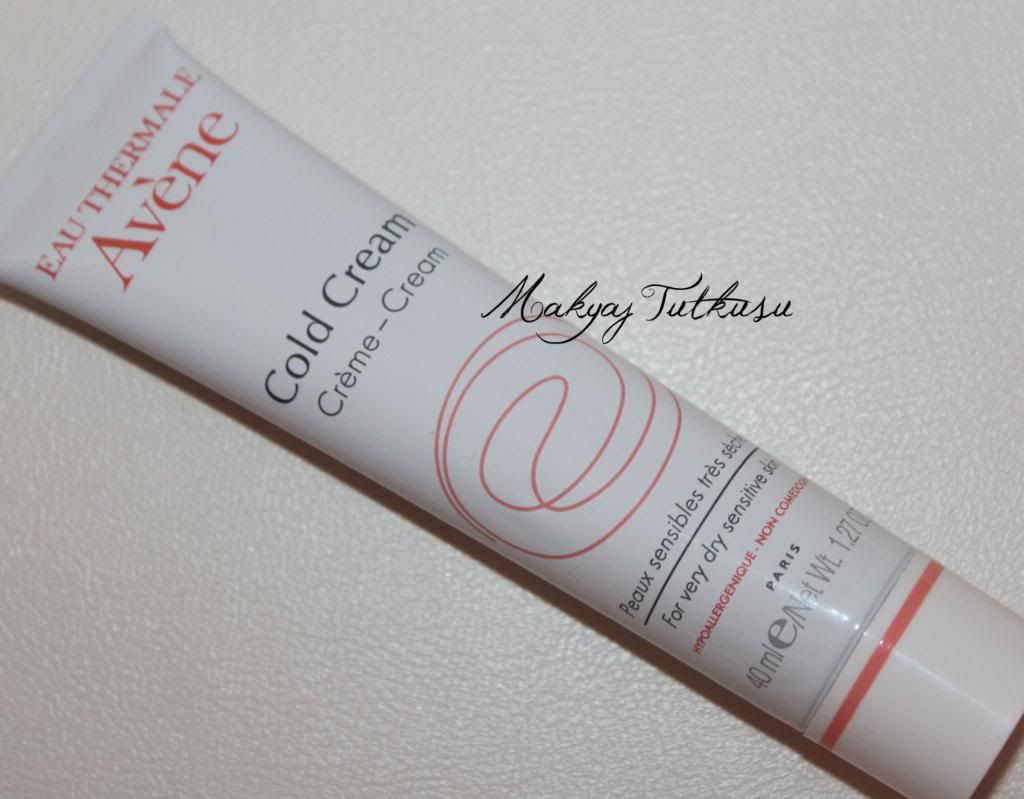 Paketi bastirmali ve bastirdiginiz sekilde kaliyor, yani icinden ürünü bastirarak cikardiktan sonra tekrar eski formuna geri dönmüyor. Dis macunu paketi gibi ayni. Bu yüzden de kesinlikle son damlasina kadar cikarabilirsiniz. Paketi benden on puan aliyor yani, süper.

The tube is really great, because it stays the way you squeezed it, just like a tube of toothpaste, which makes it so much easier to squeeze out every single drop. I love that!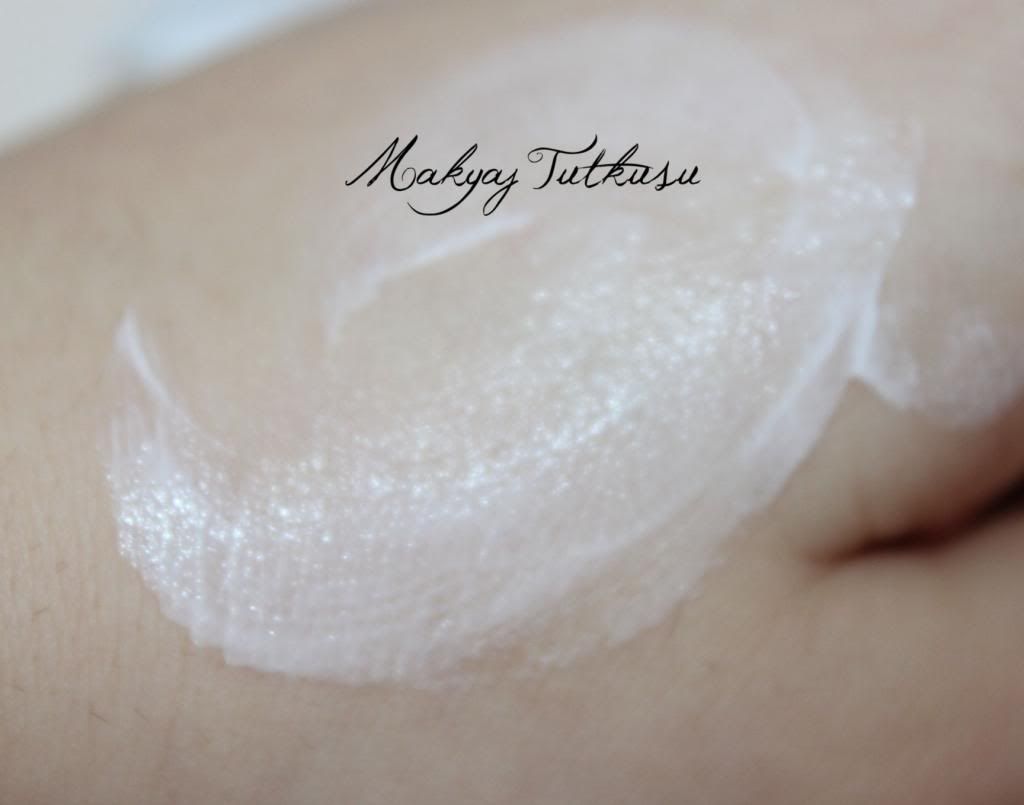 Yapisi biraz kalin ve agir, iyi yediriliyor, ama normal kremlerden biraz daha cok ovusturmaniz lazim. Kokusu diger Avene ürünleri gibi degil; ben sevmedim acikcasi, ama seven cikar kesin. Temiz ve ferah kokuyor, ama biraz babaanne parfümü gibi, hafif itici benim icin. Cilde yedirdikten sonra hemen icine cekmiyor; biraz islak görünüyor. Yaklasik on dakika sonra icine cekmis oluyor ve cildi cok nemli birakiyor. Yalniz benimkinden daha kuru ciltler icin daha uygun oldugunu düsünüyorum, cünkü benim bazen kuru olan yanaklarimi asiri derecede nemlendirdi. Beklentilerim büyük degildi zaten, bu yüzden bu derecede bir nemlendirmeyle karsilastigim icin sasirdim dogrusu. Yani benim icin fazlaydi, cok yagli yapti cildimi, cildim ürünü icine cekmesine ragmen geriye rahatsiz edici bir yagli his birakti. Eger cok kuru cilde sahipseniz sizin icin iyi olabilir, ama bana fazla geldi acikcasi. Ama yine de kullanmanin bir yöntemini buldum:
Banyo Rutinim
'e ekledim. Banyo'da bir maske olarak kullaniyorum. Saclarimi yikamadan önce yüzüme peeling sürdükten sonra bunu bolca yüzüme sürüyorum, birkac dakika bekletiyorum ve yikiyorum. Sonra saclarimi yikiyorum ve banyodan ciktiktan sonra cok iyi nemlenmis oluyor yüzüm. Genelde banyodan ciktiktan sonra cok kuru olur (cünkü cok sicak suyla yikanirim), ama bunu maske olarak kullandigimdan beri daha nemli ve ardindan bir nemlendiriciye hic ihtiyacim kalmadi. Ayrica vücudumda da kullaniyorum, mesela diz kapaklarimda, belimde (bazen pantolon yüzünden belimdeki ten yipraniyor ve kuruyor), ve dirseklerimde. Gercekten iyi geliyor, ama öyle kendi basina yüzümde kullanmiyorum artik. Dedigim gibi cok cok kuru cilde sahip olanlar icin cok iyi olabilir, ama eger benim gibi fazla degil de hafif kuru cilde sahipseniz, o zaman banyoda maske olarak yapmanizi ve vücudunuzda kullanmanizi tavsiye ederim.

The consistency is quite thick, which makes it not so easy to blend. The scent isn't like the other Avene products; I didn't really like it. It's a fresh and clean scent, but it smells a little like grandmas' perfume or something. After applying, it doesn't soak in right away, it usually takes around ten minutes to fully soak in. I think this is great for people who have drier skin than me, because it moisturized my 'sometimes dry' cheeks too much. My expectations weren't high, but I was surprised at how moisturizing this is. It was too much for me, it made my skin so greasy. If you have very dry skin, this might be great for you, but it was way too much for me. But I still found a way to use it: I added it to my Shower Routine. I use it as a face mask before washing my hair and after using my exfoliator. I apply this in a thick layer, wait a few minutes and then rinse it off with water. After that I wash my hair and when I get out of the shower, my face feels really moisturized and not greasy at all (probably because I washed it with water?). Usually my skin is really dry when I get out of the shower, because I always shower with hot water. But since I began using this, I didn't feel the need to put moisturizer on after showering at all. I also use it on my body, for example on my knees, my hips (they get really dry from the rubbing fabric of my pants sometimes) and on my elbows. It's really great for that. I wouldn't use it alone on my face anymore, because I'm scared it might break me out, so I only use it on my body and on my face (in combination with water). Like I said, if you have extremely dry skin, this might be good for you, but if you have slightly dry skin like me, then I suggest you use it as a mask in the shower and on your body.

- iheartsu
Instagram: iheartsu
Mail: theheartscalling@gmail.com
----------