'Makyaj cantam' deyince aklima yanimiza aldigimiz kücük makyaj cantalari degil de her gün kullandigim ürünleri koydugum canta gelir. Yani bu yazida disari giderken yanima aldigim makyaj cantamin icindeki seyleri degil de, her gün kullandigim ürünlerle dolu olan makyaj cantami gösterecegim. Genelde raflarimi gezip kullanacagim seyleri tek tek secmeyi sevmiyorum, bu yüzden bu tatli sirin cantaya koyuyorum. Buyrun. :-)
When you say 'make-up bag', I don't think of the ones that I take out with me in my purse, but of the bag where I keep all my daily used products. So in this post I'll be talking about the make-up bag where I only put the products in that I use daily. I don't like having to go through my shelves to pick up the make-up products for the day; I like to keep them all together in this cute little bag.
Benim en cok sevdigim seylerden biri tester ve samplelardir. Bunlari genelde deneme sürecinde kullaniyorum ve begendigim zaman full-size aliyorum. Bu yüzden makyaj cantamda cogu zaman minik testerler görebilirsiniz. Ayrica kücük olduklari icin de cok yer almiyorlar.

One thing I like to have in my make-up bag are samples. I usually put them in my bag and use them up before I decide to buy the full-size. That's why I always put a few sample sized skincare products in there. Also, they don't take much space and I hate it when my make.up bag is heavy.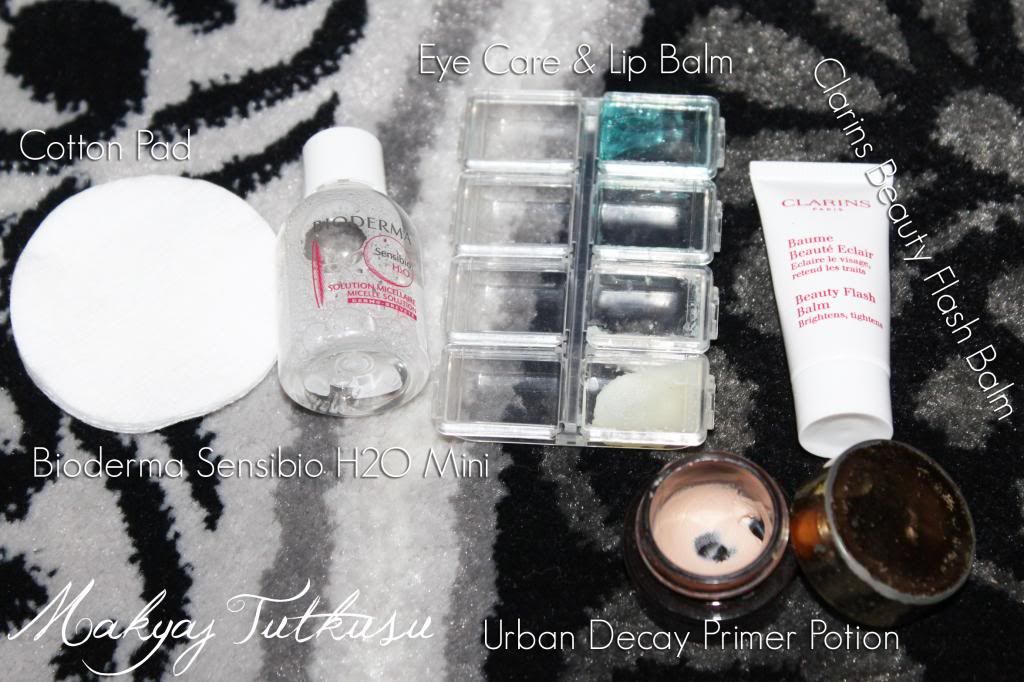 Eye Care + Lip Balm:
Bu kücük kutuya bitmek üzere olan ürünlerimi bosaltip kendi orjinal kutularini cöpe atiyorum. //
I put the last drops of my Clarins Eye Contour Gel in here and also my almost-empty Caudalie Lip Balm that I scraped out of its tube.
Clarins Beauty Flash Balm:
Bunu makyajimdan önce kullaniyorum, ama full-size alacagimi sanmiyorum. //
I use this before foundation, but I don't think I'll buy the full-size.


Urban Decay Primer Potion:
Yine bunu kücük bir kutuya bosalttim, cünkü daha az yer kapliyor. //
Again, I put this into a little tin, so it doesn't take up too much space.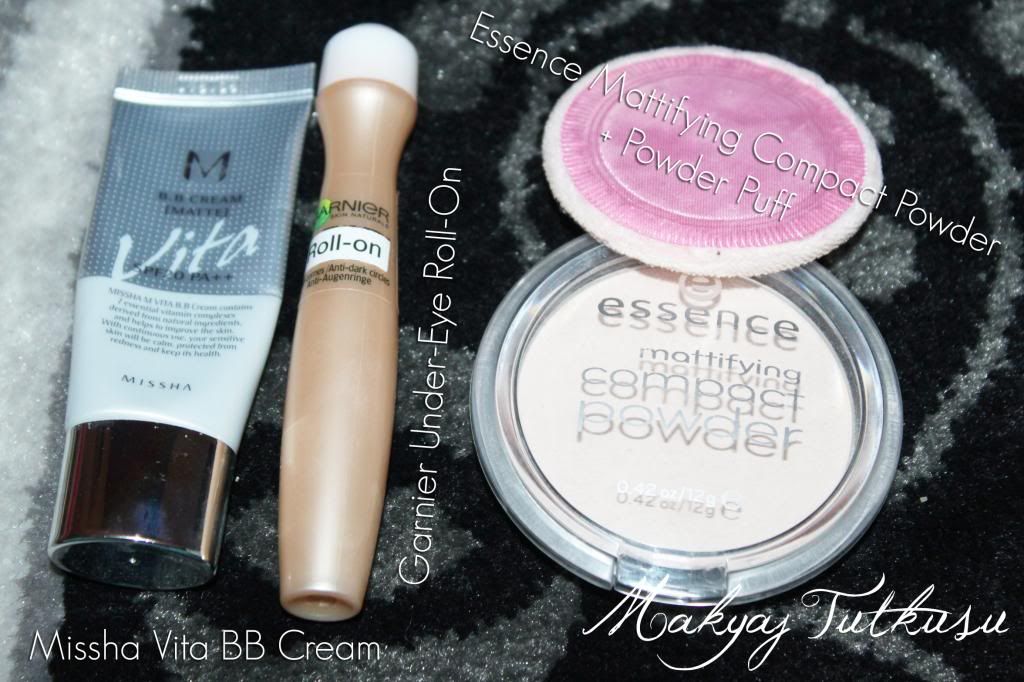 Missha Vita Matte BB Cream: Bunu bitirmeye calistigim icin her gün kullaniyorum. // I'm trying to finish this, so I use it as a foundation every day.
Garnier Under-Eye Roll-On: Bu benim göz alti icin en sevdigim kapaticim, her gün kullaniyorum. // This is my favorite concealer for under the eyes. I use it every day.
Essence Mattifying Compact Powder + Powder Puff:
Bu pudrayi aslinda en cok Ecotools yüz fircamla uyguluyorum, ama o pamukla da uyguladigim günler oluyor. //
I usually use a brush to apply this powder, but sometimes I use the puff as well.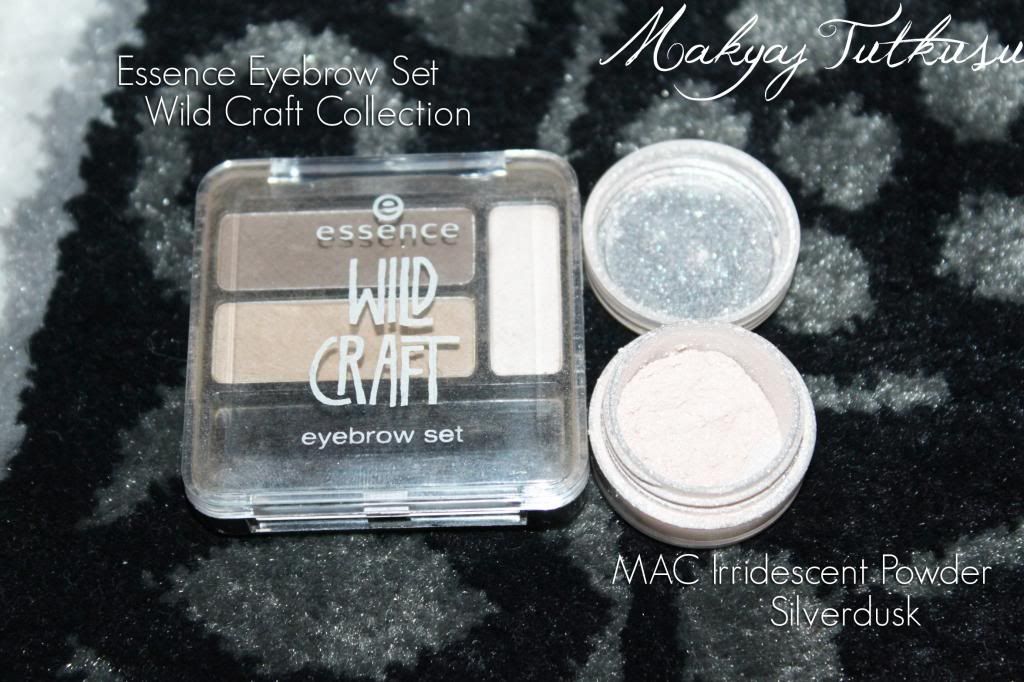 Essence Wild Craft Collection Eyebrow Set: Bunu bitirmeye calistigim icin hem kaslarimda, hem de gözlerimde far olarak kullaniyorum. // Because I'm trying to use this up, I use it on my brows as well as on my eyes.
MAC Irridescent Powder 'Silverdusk': Bu parlak pudrayi her sey icin kullaniyorum. Bazen göz pinarimda, bazen dudagimin üstünde, bazen burnumda, bazen yanagimda. Bitsin artik! // I'm trying to use this one up as well. Even though it's just a sample, it's really hard to use it up. I use it on my cheeks, lips, nose, inner corners, etc.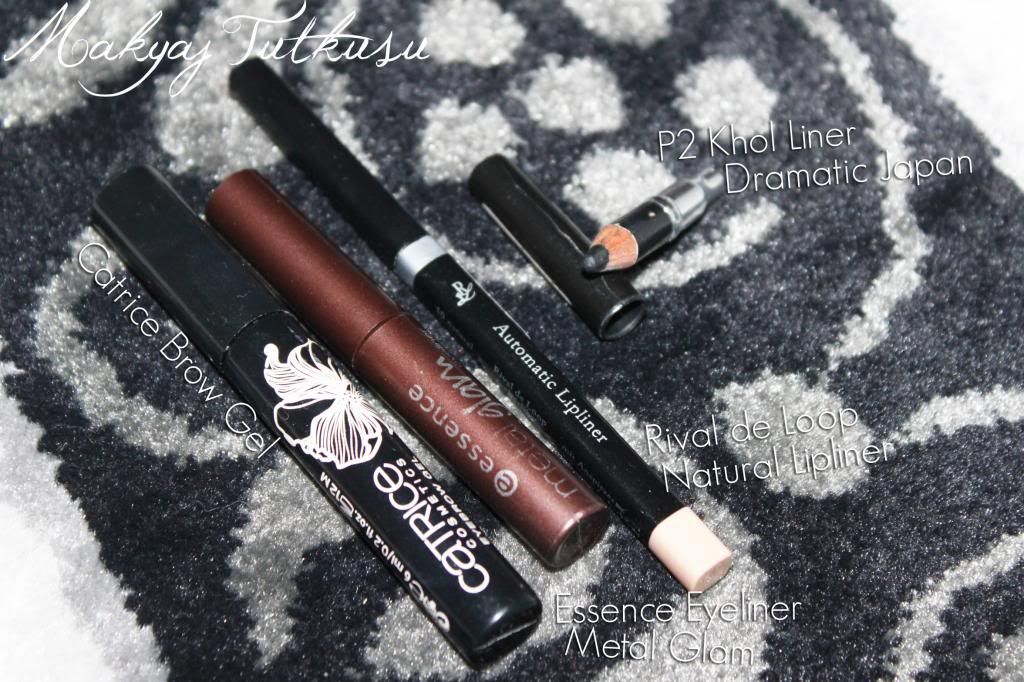 Catrice Brow Gel:
Bunu simdiye kadar her
Günün Makyaji
yazisinda kullandim ve bitesiye kadar her gün kullanacagim. Simdi baska bir Catrice kas jelini aldigim icin bu bitsin de yenisine geceyim istiyorum. //
I've used this in every EOTD post until now, and I'm gonna use it until it's empty. I have another Catrice Tinted Brow Gel now that I'm dying to use once this is empty.
Essence Metal Glam Eyeliner: Bunu birkac Günün Makyaji yazisinda da kullanmistim. Bir koleksiyondan oldugu icin alamazsiniz maalesef, üzgünüm. // I've also used this in some EOTD posts. Some people asked me what product it is, but since it's a collection item and no longer available to buy, there's no point in telling you.
Rival de Loop Natural Lipliner:
Bunu her ama her gün kullaniyorum. Waterline'imda genelde koyu renkler yerine ten rengini seviyorum. //
I use this every single day! I don't like using dark color on my waterline; instead, I love using nue tones.
P2 Khol Kajal Dramatic Japan: Bunun da bitmesini bekliyorum, herhalde bu hafta daha biter, cünkü artik kalem trasla bile düzemiyorum. Ama cok sirin, degil mi? Genelde Essence'in metal glam eyelinerini kullanmadigim günlerde bunu eyeliner olarak kullaniyorum ve bir fircayla dumanlastiriyorum. // This one will go into the bin in a few day I guess. But it's so tiny and cute, right? When I don't use my Essence metal glam eyeliner, I like to use this as an eyeliner and smudge it out with a pencil brush.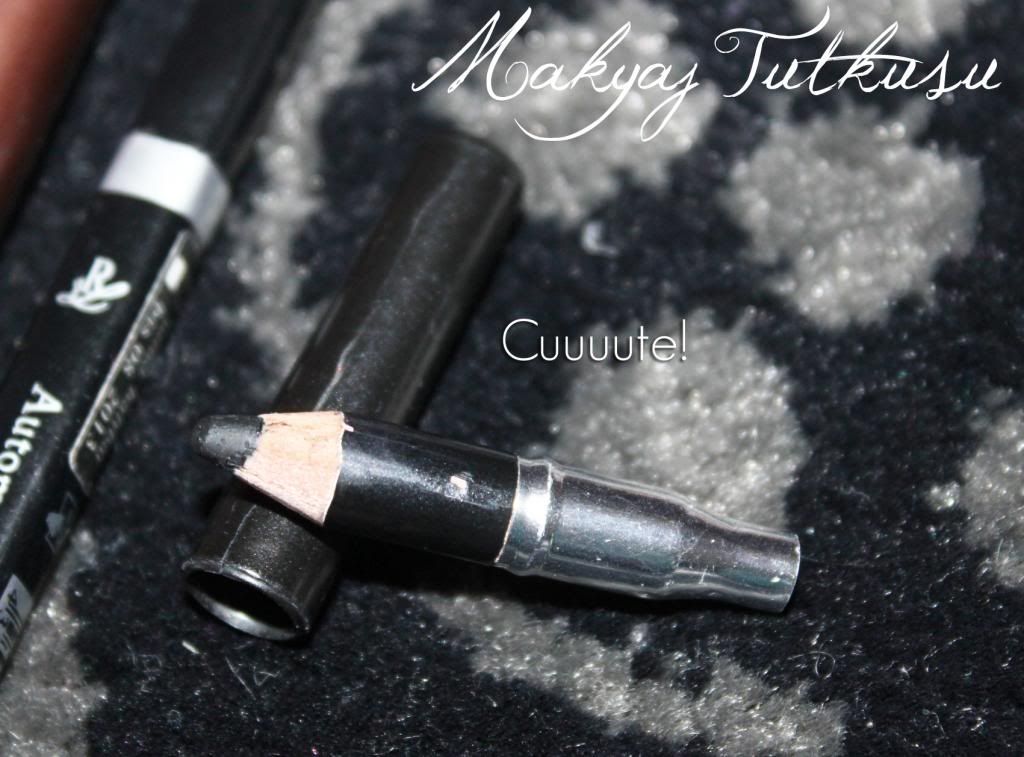 Ebelin Lash Curler: Bununla kirpiklerimi kiviriyorum, ama pek iyi kivirdigini düsünmüyorum. // I use this to curl my lashes, but it doesn't really curl them well.
Chanel Le Volume De Chanel Mascara: Bu da gördügünüz gibi bir sample. Orjinal boyunu almayi düsünüyorum. // This is also a sample. I plan to buy the full size though.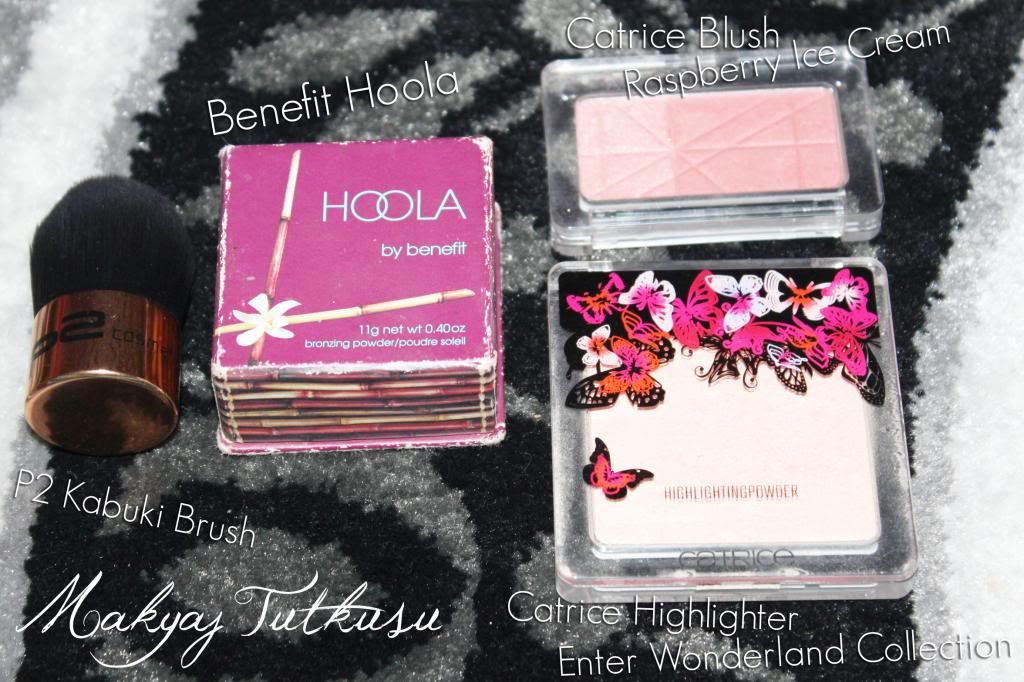 P2 Kabuki Brush: Bununla Benefit Hoola'yi uyguluyorum. // I love applying my benefit Hoola with this.
Benefit Hoola: En sevdigim bronzerim. Her gün kullaniyorum. // My favorite bronzer. I use it every day.
Catrice Blush 'Raspberry Icecream': Su an bitirmeye calistigim alligim. Rengini pek sevmesem de ne zamandir duruyor, bitsin diye zorluyorum kendimi. // I'm trying to use this up even though I'm not a huge fan of the color. It's just that it's been lying in my collection for so long, I'm forcing myself to use it up.
Catrice Enter Wonerland Collection Highlighter: Bahar yaklastigi icin yüzüme biraz daha parlak bir görünüm vermek istiyorum, ve bu yüzden bunu kullaniyorum. // Since Spring is approaching, I've really been into glowing cheeks again, so I'm using this highlighter every day.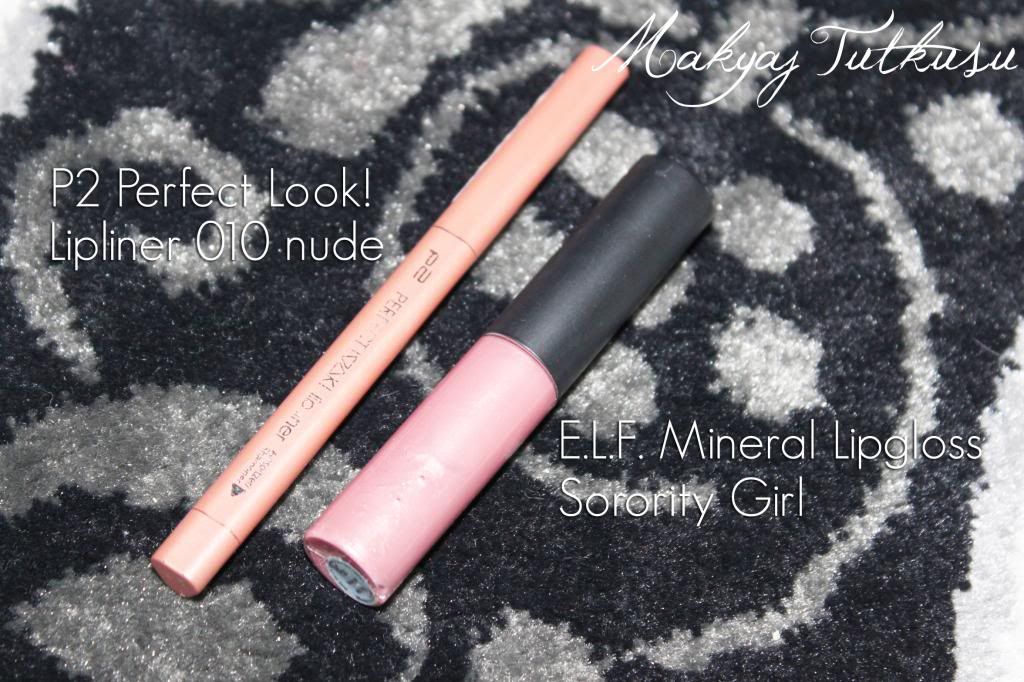 P2 Perfect Look Lipliner 010 Nude: Bunu bugün bitirdim. Bir alkis istiyorum! :D Yani artik cantamda degil. // I used this up today. I want applause! :D It's no longer in my bag.
E.L.F. Mineral Lipglos Sorority Girl: Bu glossu cok seviyorum, ama bitirmek istiyorum. Bu yüzden her gün sacimi bagliyorum ki bunu kullanabileyim (daha önce de söyleistim cünkü: ben sacim acikken loss asla kullanmam). // I love this, but I want to use it up, because I'm scared that it will be spoiled soon. I've been wearing my hair in a ponytail for the past weeks, so I can use this (as I don't use gloss with open hair).Umarim bu yazimi begenmissinizdir! Bir sonraki yazimda görüsmek üzere!
I hope you liked this post! I'll see next time!
- iheartsu
Instagram: iheartsu
Mail: theheartscalling@gmail.com

----------